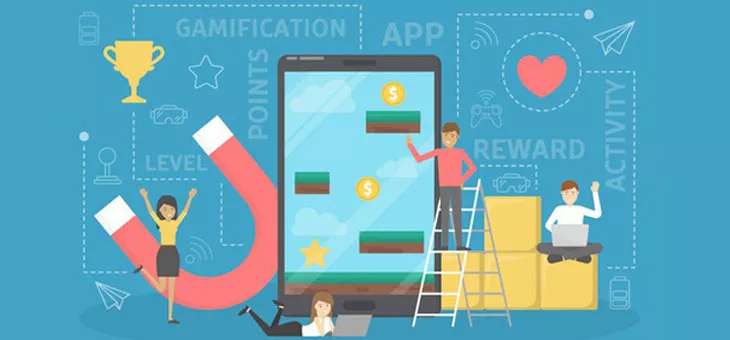 It is a great feeling when you come to know that your mobile app is getting downloaded. This can make anyone happy but the question is, is this really going to make you happy?
Customers are downloading your app but are they actually using them? There are a wide range of reasons, they might have downloaded your app, opened it once and never touched it again! So, how does one stop such a thing from happening to their apps?
A user has a lot of option to choose from and if your app has been lucky enough to get downloaded, you should not let go pass such an opportunity.
Tips To Improve Mobile App Engagement
Make Sign-up Hassle Free

It has been seen that a long sign-up page with unnecessary elements irritates the customers. It is important to realize that only a brief minim information is required to get a new user on the board.
Make the sign up process easy, so you can quickly get them into your app. Now, you have the ball in your court but remember to play well with the following elements too.

Work on the Initial User Experience

Businesses spend a lot of money in marketing and getting people to download their app. Therefore, it is important that if you have got them to download your app, get them engaged too.The display elements at the beginning of your app should be simple and not complicated. Your user should navigate freely and easily through your app and not get stuck anywhere.

Work on Push Notifications

Push notification is a great way for the advertisers to engage customers. With the advancement in technology, push notifications don't require an app to be opened for the messages to get delivered to the customers phone.Apart from this, you should give the option to turn the notification on or off as per your customer's choice. Poor quality and unnecessary push messaging can lead to your app getting thrown out of the phone, so be extra careful with this!

Market Segmentation

It is very important to segment your market, based on demo-graphical information or the devices they use etc. Most of the businesses fail to realize their target market.When one knows about their target market, they can save a lot of money during app development and marketing. One should always remember that a business grows by getting niche audience and not through anyone on the globe.

Automated Trigger Messages

Get your developers to build automated trigger messaging to increase more customer engagement and loyalty. One thing to keep in mind is that it should have relevant content and gets delivered at the right time to the right people.Some important times to trigger messages are during pre-sale, post-sale and date based triggers. Suck kind of event based triggers build stronger and more intimate relationship with the customers.

Can't Handle On Your Own?

If you have tried each and every method but still can't get your app to download or move one step further post downloading, come to WireTree. We are the leading web and mobile app development company in Toronto. We will help in getting your app to only get downloaded but run like a champ!