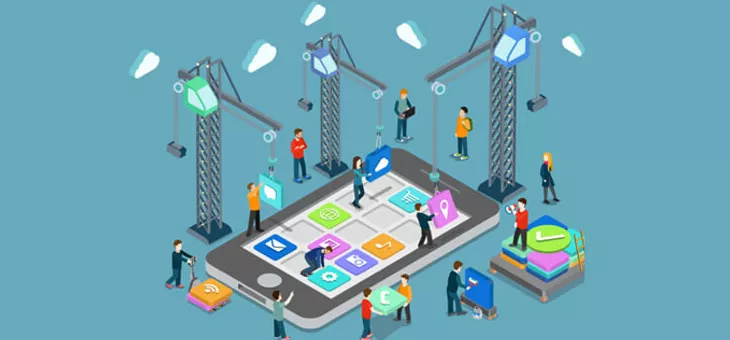 Nowadays, every small business owner knows that they need a mobile to stay competitive these days. But being mobile does not mean a mobile friendly website, it means connecting with your visitors or audience through a mobile app. It is a truth that an app works very well for smaller businesses.
Did you know 77% of the world's population is online? Yes, it's true and it also a golden chance for you to take your business sky high. Mobile apps designed to run on mobile phones and other mobile devices like tablet. In this digital era, people, especially youngster uses their smart phones to access the Internet. If you are not present on the Internet, you are missing the opportunities to engage with your potential customers.
If you are still not sure that why your business need a mobile platform, here are some benefits of a mobile app.
Be visible to your customers

Statistics show that most of the people spend their more time on mobile phones to browse the internet instead of desktop or laptop. The main purpose of making a mobile app to make people to download and use your product. Making an interesting and good looking app is not ample, you have to create more usable app.

Build a direct marketing channel

A mobile app comes with various functions and deliver general information, search features, booking forms, info regarding user account, prices, new feeds and much more. The main benefit of an app is that you can provide various offers to your customers like special discount and sales.

It enhances customer engagement

Whether you are an owner of small, medium or large business, a cell app is important to improve your presence on the internet. It is one of the best ways to engage with your customers at any time. Take an advantage of an app and make it a valuable tool for your business.

Stand out from the competition

You can take a big leap ahead of your competitors by creating a mobile app. Be the first in the market to provide a mobile app for your audience.

Working at anywhere and anytime

Your business is open 24 hours through a mobile app. It allows your users to get your service or product anytime or anywhere. You can save your customer's precious time and hard earned money by providing an app. It allows customers to accomplish their tasks at anywhere and anytime by using their smart phones.
Mobile app is one of the most effective and powerful tools to stay tuned with your audience all the time. It helps to gain more leads and visitors. When you are going to create a cell app for your business, make sure you hire a professional app developer in Toronto