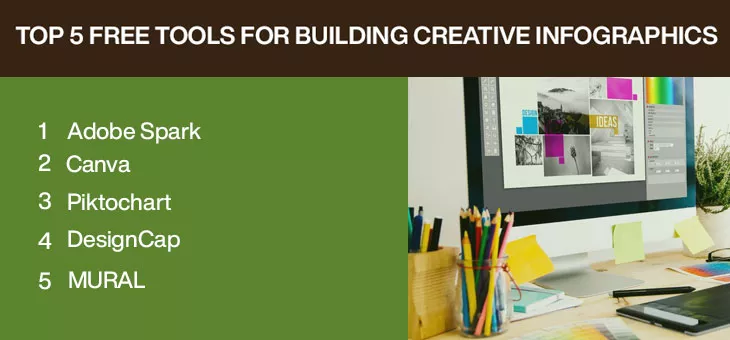 An infographic is a visual way of conveying a complex concept or data, which is more engaging than plain text. It presents information quickly and thereby improves cognition by graphics. There are several tools with prebuilt templates on different platforms to make new infographics.
It is a widely used way to display information appealingly. Businesses communicate the latest information on social media pages, websites, and blogs, magazines, and emails with infographics. They create valuable and engaging information to explain their products and services to the clients in an easily understandable mode.
An infographic puts up a vast amount of tedious and complicated information in an easy to understand manner that helps in getting more leads and retain clients. Businesses are continuously looking for infographic tools or makers to connect and share a graphical visual representation of information with the audience.
Infographic tools transform masses of information into easy to read visuals. People are interested in looking at an infographic rather than endless reams of data. Thereby, even it is time-consuming to put together data in infographics, but they are useful.
Here are the best free tools for infographics right now.
1. Adobe Spark
This is a perfect tool to make infographics quickly and easily for social media with over 10,000 templates to choose from and thousands of assets to smarten up the infographic design.
Drag and drop editor kicks off the infographic with a default template. However, people search through the templates to get the one themselves and then start editing. Then, there are options to add a background, change the text, add an image, introduce an icon, and include a logo. After this, the infographic tool allows you resize to for the desired social platform with one-click.
2. Canva
Canva is a widely preferred design tool by the non-designers. It has an easy to use interface with a large collection of photos and icons, with easy export options. The tool gives you a template to start with, followed by change text, delete image, or move icon according to the needs of the Infographic. There is an option to add your images of the organization like logos and assets. It is used to create beautiful designs with a drag-and-drop feature for business cards, logos, and presentations.
3. Piktochart
Piktochart has easy to customize templates on which they can tweak the layout and color scheme of the entire infographic. It is the best art form to make up to five visuals, although users have to pay to get rid of the Piktochart watermark. It is widely used to create beautiful and visually appealing infographics, flyers, presentations, and reports easily. It is quite useful for creating captivating infographics, business cards, printables, and presentations at some time. It is an easy-to-use platform for creating beautiful visuals without intensive experience in creating infographics and visuals.
4. DesignCap
DesignCap is a simple to use infographic making tool. It entails a range of templates, icons, illustrations, and imagery, which helps in creating the infographic for your business. The free plan includes up to five jpg exports. It is widely used online graphic design software for creating custom designs with thousands of templates. Non-designers can create amazing simple posters without any design skills for marketing and branding. It is a powerful graphic design tool to turn your creativity into stunning posters and flyers with great ease.
5. MURAL
MURAL is interactive real-time tool that makes you think like a designer and act as a designer. It allows ideating with industry trends and collaborating more efficiently.
It helps users to express ideas and draw freely for a full whiteboard experience on the Windows app. One can share sticky note feedback with team members in a loop to track the progress of the project. It helps in easy collaboration and visually sharing data with the team. This tool has helped innovative teams to think and collaborate visually to make interactive business cards, presentations, and infographics. Even if one team member makes the change, the entire thread can view it instantly on a thread.
In The End
Thousands of professionally designed templates are available on these tools to create infographics, presentations, posters, flyers, social media graphics, and more. If you are looking for a professional infographic maker, WireTree Toronto can help in leveling up your design.