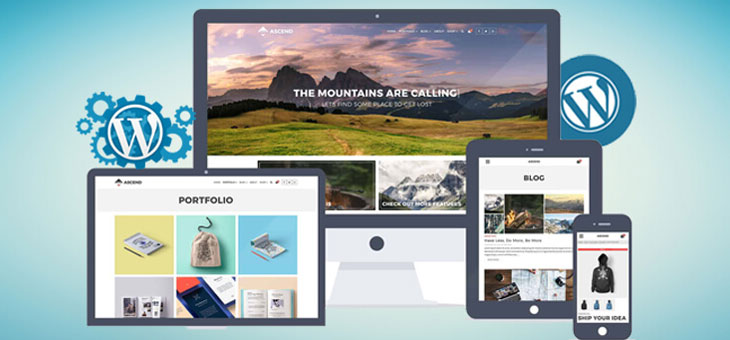 Are you planning to own an online business website developed on WordPress? If yes, you have to make the right choice from thousands of WP themes available for free or at a premium. No doubt, WordPress is the most common content management system that is easy to install, use and manipulate. This is the reason why almost 80% of the top websites in the world are developed on this CMS.
Whether you want to build a portfolio website, a blog, business website or an e-commerce website, WordPress is loaded with amazing themes and layout to serve the purpose. Moreover, it is a well known platform for developing fully functional and responsive websites that too within a budget. Installing a free theme available online can help you save not only the time but money too.
By choosing WordPress as a development medium, you can rest assured as your website will look all decent, modern and professional. Since it is difficult to make the right choice for selecting the most appropriate theme for your business, we have compiled here the best free WP themes that can help you own an attractive business website.
Twenty Seventeen

It is a popular theme that offers solid functionalities and is available at WordPress.org. Twenty Seventeen is a fully responsive theme that has gained an immense popularity because of the reason you can add multimedia content and personalize it according to your needs. Moreover, you can even run the theme in your native language. Try it once and it'll surely become your favorite one too.

Shapely

After Twenty Seventeen, it is Shapely that is descending the throne of popularity. If you are looking to own a one-page website, go for Shapely. It is a powerful WP theme offering a full range of unmatched customization options. It supports an array of functionalities ranging from responsive & flat design to retina-ready views and customizer/ plugin support. It comes pre-loaded with WooCommerce integration, translation ready and unlimited color options.

Quality Green

Quality Green is another great WP theme found on WordPress.org. It is the child version of Quality theme and offer a myriad of features and functionalities including but not limited to background options, logos, content, multimedia and other easy to customize features.

Kale

If you are looking for a theme offering minimalistic view and functionality, Kale is the best choice. Whether you want to develop a typical business site or want to create a website for fashion, parenting, cooking, online shopping store, Kale comes with unlimited features. You can customize a slider, add featured content, YouTube videos, add a logo, and much more. Moreover, it is an SEO-friendly website consisting of neat and clean code.

Breviter

Breviter is a popular theme that is specially designed for creative bloggers who want to attract more readers and audiences towards their blogging website. Whether you are a wedding planner, a fashion blogger, or a creative photographer, Breviter is the right theme to go for if you are looking for a bunch of customization options and elements.

EightStore Lite

If you are looking for an e-commerce friendly theme set-up accompanied with WooCommerce integration, EightStore Lite is the ultimate theme to download that is available for free. Loaded with a number of functionalities, you can easily customize the website design, theme layout, homepage elements, product slider and add featured products to attract the target customers.
So, here are the themes you can download anytime to develop a feature-rich and responsive WordPress website for your business. Apart from these, several other themes are available on the web that fulfills your online website needs with the least expenses. If you are looking for a WordPress developer in Toronto to develop a responsive website, look no further than WireTree.