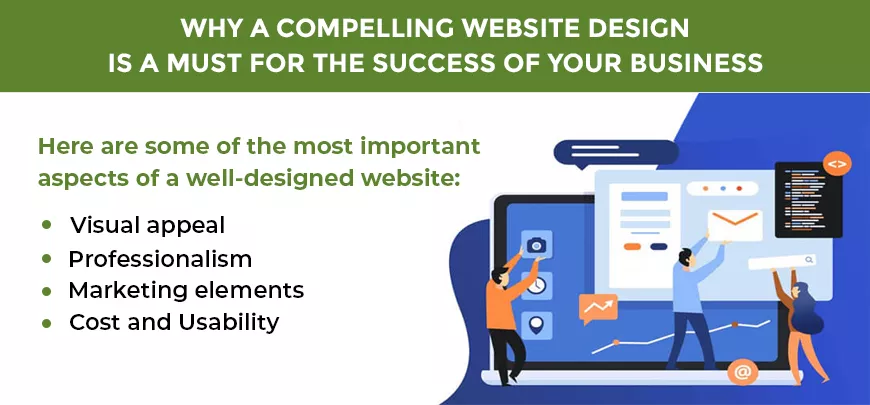 Many entrepreneurs often cut corners when designing their websites while planning for their company's digital presence. This can be due to various reasons. Costs involved in website designing and hosting are one of the main reasons that prompt business owners to postpone the launch of a professional website. Often, they also get the design done in-house or employ cheaper alternatives that could be available for lower costs. While there is no harm in cutting costs or stretching the dollar to meet the critical needs of a business, not considering web development as a critical process can stymie profits and delay returns significantly. This is because websites are marketing and communication tools without which a business remains obscure and inaccessible to potential customers.
Since a sizeable number of customers are online and resort to online methods to search for their needs, a website becomes the first point of interaction between the customer and the business. Here is where first impressions make a deep impact! If the website of a business is poorly designed and badly executed, customers would not be encouraged to explore more, and worse, would prefer to keep away after the first interaction. Therefore having a professionally-designed website is very important to attract and maintain customer loyalty.
Here are some of the most important aspects of a well-designed website:
Visual appeal
The process of designing a website gets all the more complex when one understands that a site is developed for a diverse set of customers across the world. Even the colours and font size used in a website can become serious mistakes if they do not appeal to the majority of visitors. A good site has to be easily navigable, consistent in layout, employ the most popular technologies (so that all customers can use it effectively), and be engaging rather than distracting. This is where the experience of professional web designers who are trained continuously on the nuances of customer interaction becomes vital for the success of a website. While a website can be developed with some knowledge and creativity, using it as an effective marketing tool requires the professional experience of professional web designers.
Images and text layout can make or break a deal when it comes to websites. Properly formatted text that is consistent in size and easy to read complements effective content. Similarly, well-spaced and thoughtful additions of images and, even animations, can enhance content on a website. In circumstances that demand so, the use of professional animations is also required to enhance the quality of a site, which requires the skills of professional web designers who can optimise performance within defined project costs.
Professionalism
Gone are the days when websites were supposed to have flashy animations and music on their landing pages. However, some designers are still steeped in the past and one can come across websites that are heavily distracting. Professional websites have a clean interface that conveys the values of the business that owns the site. A good professional web designer can easily merge interactive elements into a minimalistic web design that is least distracting and gets things done easily for the customer. Such designs that provide superior user experiences are in demand because they make customers comfortable.
Marketing elements
Rather than serve as a static information repository, businesses are using websites to provide interactive information to users. This calls for some serious web-designing skills that span many domains of knowledge such as customer psychology, user-interface design, interactive content management and so on. Businesses cannot actualise the full potential of their websites if the site serves only as an information provider. With the world fast moving into analytics management, data provided by customers is valuable and finds use in future marketing initiatives. This calls for high-end technologies and professional web-designing skills that are mostly not available with novice developers.
Cost and Usability
Beyond all the talk of technology and good design, a website design becomes successful only if it is ultimately useful to the customer. Even a low-tech design can sometimes attract and retain more customers provided its design is executed well. On the other hand, there are certain situations in which the use of technology has to be maximised to generate good leads for the website's owner. Discerning how much to deploy is the skill that is vested with good, professional designers who know how to make a site usable for customers. They know how to tweak and manage elements of good site design within the cost parameters of customers. Employing a good designer would therefore be beneficial in the long run.