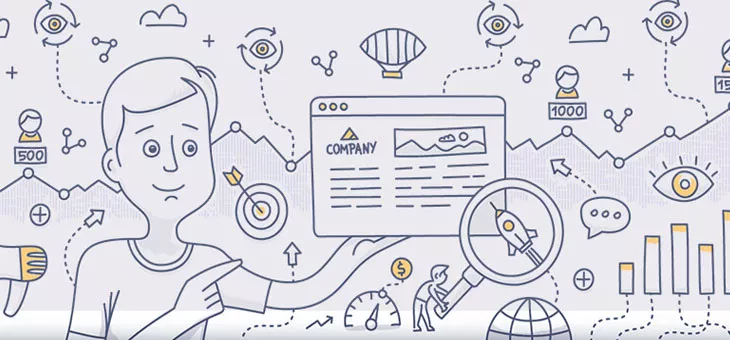 When you consider making a successful business, you have to walk one step ahead of your competitors. You need a well functioning website that serves as a source of lead generation. What you think about your company and what your plans for making it successful, all you need to do out of the box.
If all this is done, your responsibilities become harder to keep it rank on the higher. What your business profile is on Google, it can be better defined by the quality content. Likewise, there are several elements make your business website in a working condition, you have to update them regularly. Make it, what people are expecting it should be. Here are the top five mistakes that often cause of your site fall apart.
Not Using Google Analytics
One should use Google Analytics at least for one hour in a week to get the useful information. It will help to know:
Site visitors
Site visitors leaving your page
Number of organic searches that lead the site
Breakdown of new and returning visitors
The platform, your visitors used to interact with your site.
This information is crucial to determine what your page needs to be addressed.
Not Using Google' Rules
No matter, on whichever browser your site is accessed by the users, you have to make it:
Mobile friendly
Updating the content consistently
Monitor it and settle down the issues like broken links, most important 404 errors and images.
Tracking Code
Analytics plug-in or website code often changes due to tracking code and this cause discrepancy in analytics reporting. This is one of the main reason for your site traffic dropping that is often overlooked. So, always cross check the tracking code before spending time on its other updates
Trends Over Time
When you analyze that traffic is constant or dropping then understanding and implementing the seasonal trend can work in your favor. Use the effective internal links strategy creating the droves of orphaned pages simply for the blogging.
Sources Of Traffic
If organic traffic suddenly declines, it could be the SEO issues. Your site is either updated or search engines are not indexing in the same way as before. If your paid traffic has dropped and still, you are spending in the same, it means your adds are not profitable. If you are using social media marketing and not getting traffic, you have to make it effective.
In order to handle the issues that make your site dropping the traffic, you can approach WireTree. We have professionals for your business website to rank higher, lead the conversion, get more traffic and grow your business.