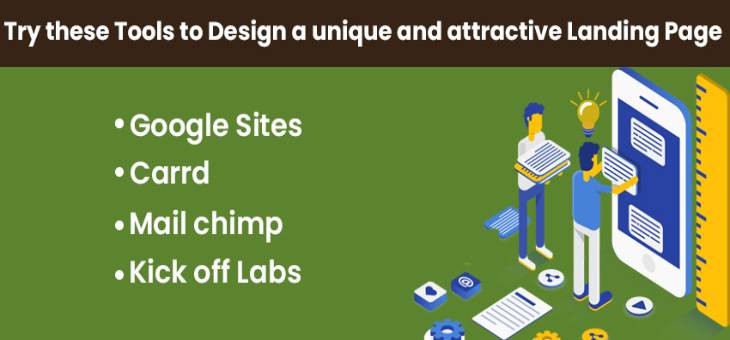 Landing page- a perfect platform for any online-based business. Different businesses adopt different landing page strategies in order to attract potential clients. The majority of the firms opt to collect the email address of the visitors from the landing page itself. In the long run, it helps the brand to reach a larger audience through email marketing. Besides, a section of business owners showcases the sales page as the landing page. In any of these cases, a landing page needs to be attractive and engaging for the audience. As a result, you are expected to optimise the landing page of your website. In order to do that, you need some innovative tools, and here in this article, you will know four such tools that will ensure to create an attractive yet unique landing page for your website.
1. Google Sites
If you are looking for an efficient landing page building tool that is completely free of cost, Google Sites can be a great choice. Though this particular platform has a limited number of themes, these are more than enough for covering all the basic aspects of a landing page. In this platform, you will get a relatively larger graphic header and the title of your page at the top portion, and below that part, you can drag in sections for images, texts, or uploaded files. Google Sites also gives you the option to change typography and colors. The platform is powerful enough to support any type of Landing Page Toronto.
2. Carrd
If building a unique and interesting landing page in a fast manner is your requirement, it is highly recommended to take a look at the Carrd platform. Here, you don't even require to sign up for an account; just head to its official website, choose a theme for your landing page, optimize it, and if everything goes alright, sign up just before publishing the page. The tool's simple use and cost-effective nature play an important role in its success story.
3. Mailchimp
If you are into email marketing, you must have heard about Mailchimp. This email marketing-based application is also a great landing page creator. In order to start the process of creating a landing page, navigate through Create > Landing Page on its official website. Initially, you have to name it and choose your audience and select Begin. The tool only offers ten themes to choose from. However, each of them offers an exclusive visual appearance, and they are extremely capable. If you want your landing page to sign up for an email newsletter, Mailchimp is the tool to prefer.
4. KickoffLabs
Unlike the previously mentioned tools, Kickofflabs is not meant for creating a simple and classical form of a landing page in a quick time interval. But, this particular tool is known for creating a campaign-oriented goal-based Landing Page Design Toronto. By choosing the promotional strategy or competition, you can easily kick-off your campaign. Besides, you can also offer a discount to your customers for referring your page to their circle.
Wapping it off
Many people make the mistake of taking the landing page lightly. But, you need to understand that the landing page affects your firm's sales number immensely. It has turned out to be a great way to generate easy leads. A recent survey suggests that the chances of getting new leads increase by a whopping 25% to 30% with a well-optimized landing page. Besides, it offers a great first impression for your website and engages your audience in a far better way. By taking the help of one of these four above-mentioned tools, you can create a unique and effective landing page for your website. There are a number of Web Design Toronto firms present in the market. However, only a few are reliable enough to trust. You can refer to experienced firms like Wiretree for the best possible solution.