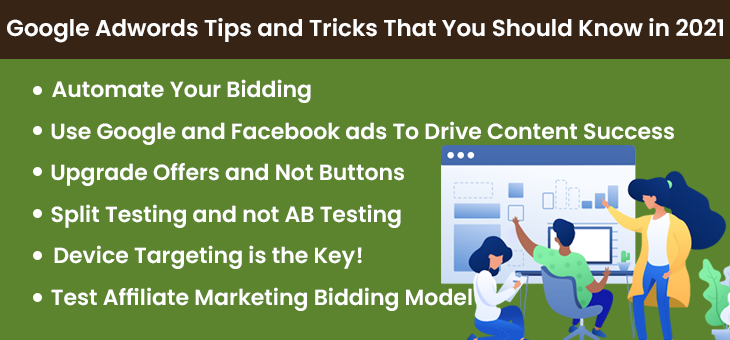 Google Adwords-We all know what it does, why we use it, and how we use it! Often, we fail to keep up with the trends, and the recent approach followed or chose the right way for its optimum usage.
Are you willing to learn some Google Adwords Tips to help you land a perfect advertising campaign in 2021? Let us read about them in detail.
Automate Your Bidding
The first step to setting up a Google Ads Campaign is setting a budget. On the dashboard of the Campaign, you can create an automated bidding rule. This will ensure that you do not have to babysit the Campaign and even mitigate any risks that can cause you spending high or missing out on something. Therefore, it is best to set up predefined targets for each marketing campaign.
Use Google and Facebook ads To Drive Content Success
Using PPC aids in improving the website results on the SERPs, but most of them will target the bottom-funnel keywords. Often, you make use of the right keyword, but people do not choose you. This is because they do not know you or never heard of you. How? Take up the right keyword, and add a paid syndication- you will watch the keywords rank rising on the search network.
Upgrade Offers and Not Buttons
Google Adwords can be tricky at times. It might encourage you to upgrade buttons to increase sales, but you have to stick to upgrading and improve the offers to attract more prospects. Be sure about the keywords and the user's intent- they should match. Make use of lucrative keywords to land good traffic on the website, more leads, and more conversion, thus more sales! Therefore, it will not be a hard sell.
Split Testing and not AB Testing
Split Testing should be your approach instead of A/B Testing! It is a current recurring theme. It is said that especially the video content should undergo split Testing and not A/B Testing. It helps in staying one step ahead of the competitors. There are several professionals to do the same for you and your business.
Device Targeting is the Key!
We all know that mobiles and tablets-mainly the handy devices are in! Therefore, it is necessary to make a campaign that is a device targeted to achieve success. Each landing page needs to be modified and treated differently for mobile users. It is time to pay attention to both desktop and mobile users. Brand awareness and campaigns are perfect for generating leads and often well reserved for the desktop.
Test Affiliate Marketing Bidding Model
Affiliate marketing – it is one of the most sought-after marketing strategies in today's time! And, it is undoubtedly going to prevail in the future for a good number of years. It shows you how PPC (Pay Per Click ) advertising can be helpful in success.
With Affiliate marketing comes other structures like- Pay per sale, Pay Per Click, and Pay Per lead. There are so many things to do with Google Adwords that benefits your Affiliate Marketing strategies.
Conclusion
It would help if you noticed a constant update, change, and improvements in Google Ads. And, so the changes in consumer behavior! Take a hard look at your current Google Advertising strategy. Are you going the right way? Are the campaigns updated as per the new norms? Have you automated the bidding? Check all and modify them as per your need! 2021 is the year to get ahead of your own game!
Are you looking to hire a professional to help you in advertising with the ideal Google Adwords Campaign? Reach out to the trusted and chosen marketing professionals- WireTree. Get acquainted with a lot of Google Adword Tricks Toronto them and increase your ROI within a short period.