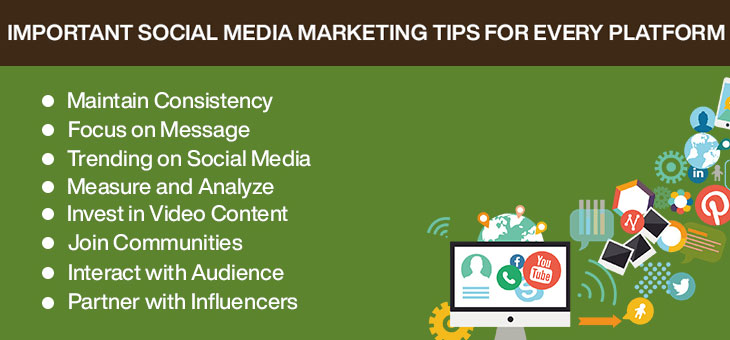 Social Media is the talk of the town. Every business and brand is using social media and its million active users. Even the well-established companies use social media to increase their followers, generate leads, and hence generate sales and revenue.
Brand building with the help of social media is a tricky and challenging task. However, it is far easier than ever to connect with audience and grow organically. Whether you just started or you have been on it for a while, a little improvement is always possible.
Here we shall discuss about all the social media tips that can be applied to optimize a brand's marketing strategy.
Tips for any Social Media Platform
Create a particular strategy for each platform of social media
This is the first most important thing to understand. Each social media works differently. Somewhere graphics work, while at other platforms people read what you wrote. Thus, a marketing strategy should be as such to accommodate each social media platform's features.
Formulate a plan and design for each platform you plan to use. It is not necessary t have a brand presence over all the platforms but a specific strategy to target your audience in a specific platform is a must.
Maintain Consistency
To create a brand presence, it is essential to maintain consistency with your posts on every social media platform. Depending upon the type of social media you are working, the time spent on it differs. Like Instagram Stories and Twitter requires you to be more active time every day to get a myriad of a potential audience. Other platforms like Facebook and Instagram posts can be used sparingly.
Focus on Message
Each social media platform serves a different purpose and has its own specific demographic. Of course, an overlap of people you plan to target will overlap on each social media platform. Therefore, it is important to understand the demographics you are dealing with to customize your message. With a focused message, you create better quality content that resonates with the audience.
Trending on Social Media
Be aware of what is trending on social media and use it as a leverage to connect with your people. Create posts that align with your message and drive more engagement to your page. Therefore, think of a focused message and accordingly create your future posts. Use the virtual content as inspiration to design your post.
Measure and Analyze
Posting on social media is not enough. You have to check, measure, and analyze your posts. It will tell you which post is working better. It is seen that 40% of businesses do not track the ROI (Return of Investment) on social media at all. This implies that there is no other easy way to evaluate if your strategy is working or not.
Invest in Video Content
Video content has boomed a lot for a long time. With the introduction of IGTV and the quick growth of Facebook Live, Youtube, and others, active social media users prefer video content more than anything.  Engagement on video content is more compared to content and images. This implies that your video content will get more exposure and reach compared to other text and image posts.
Join Communities
Social media network is large. Millions of users are active every day and new users are joining too. Platforms like Twitter Chats, LinkedIn Groups, and Facebook Groups offer ample opportunities for brands and companies to connect with thousands of like-minded people. Participating in these groups helps in establishing brand authority. It allows us to connect with your audiences.
Interact with Audience
It is important to interact with your audience – both that you already to connected to are about to connect to. So, post high-quality content which is also relevant to your target audience. Also, make sure to keep an eye on those posts. Regularly examine and analyze each of your posts. It will help you understand which type of content works better. Answer them often, reply to their messages and comments promptly. Thank and mention your clients with their positive reviews. This increases the brand and content add value to your brands.
Partner with Influencers
Recently, influencers have been the most adopted and successful marketing strategy adopted by brands- small or large. Gaining the trust of social media users is one of the most difficult tasks. Here is where already trending influencers can come to your help. Therefore, partnering with influencers is a great way to make these people promote your brand and company. In turn, it will help in gaining more organic reach on your page.
If you are looking to adopt more SEO or marketing techniques, then WireTree is your one-stop solution. Reach out to us today and get the best solutions for all your marketing-related problems.