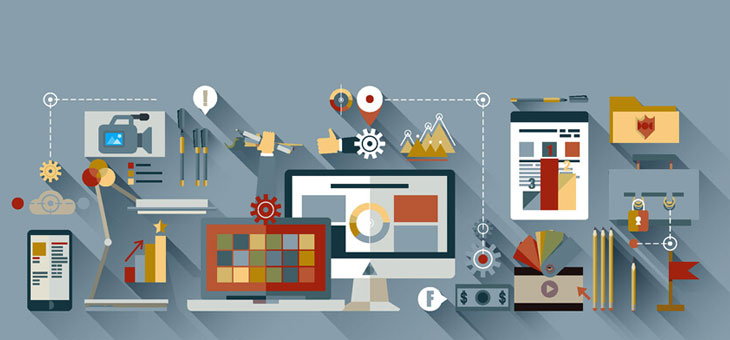 Are you looking to design a cutting-edge website that supports to achieve all your business mission and vision? If yes, you have to follow the strategy that is advance in today's world and enables you to create a website apart from others. This strategy eliminates the trends of traditional years and follows the updated tools and techniques of 2018.
The internet is loaded with endless websites but the use of new and latest features make your website come into the sight immediately. Being a creative arena, trends in web design are changing continuously and following the trendy rules will keep you in the notice.
Web Design Trends:
Eliminates The Grid
You are suggested to make less use even don't' use the parallel lines, straight alignment and symmetry for the standard procedure. Nowadays, the use of asymmetrical design is increasing faster as these are attractive as well as used to guide the visitor's eye-line exactly where they require it to go.
More Use Of Animation And Interactions
These days, static web design is always with us to pull in the audience with engaging, interactive and animated web designs. Create an animated graphic design on your homepage as well as paginated the scroll design. These design elements are engaging and add a measure of endless professionalism.
Image Oriented Homepage
In order to create a high conversion web design, some companies make their homepage as sale purpose. But it does not perform good so one should not write sales pitch entirely on the homepage. Nowadays, people mostly demands the eye-catchy images with minimal text on the website homepage.
Curvaceous And Organic Designs
Gone are the days when designing was limited to clean grid to straight shot lines. Now, you can apply to display the clean lines with stylish curves. Currently, the designs are adopting the organic and curved shapes for the artistic look.
Navigation
Floating navigation is one of the subtly helpful web design trends. When you scroll down, the navigation appears along with the ride. If you need to go anywhere else on the navigation bar, it is already there no scrolling is necessary. Rarely, this design feature is noticed but it enables with more intuitive user experienced.
Detailed Typography
These days, the monitors can produce beautifully intricate fonts instead of sans serif that was used initially. Typography in today's web design enables one to rely on the content as well as used as a form of artwork. You need to play with it.
In order to deliver these effects in your website, you can hire the experienced web designers at WireTree in Toronto. Our experienced team members are handy with latest tools and techniques to provide best-in-class web design services.