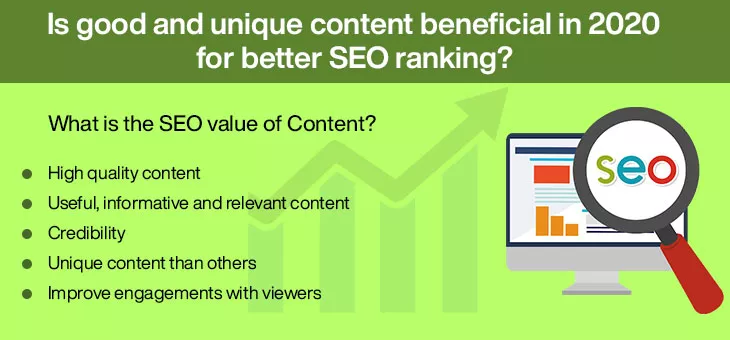 Content and SEO, you can not separate them because they are interrelated to each other. Good and strong bonds of both can catapult any website to the top of search engine ranking.
But it only works, if your content is best and unique in it. Any bad content may lead to worse outcomes like penalty by google and trust me it would be very tough to recover from it.
As in 2020, Content is playing a significant role in SEO ranking because nowadays the audience wants great content with the right information rather than just clickbait content. The purpose of this article is to give you a better understanding of content and how you can improve it to attain better SEO ranking in 2020.
Let's get started,
Before diving into deep, you must understand the meaning of "content" in the web world.
so what actually "content" means
Well, It's hard to give an exact definition of "content" but in simple words, content is high quality and authentic information that conveys the actual story to satisfy the audience. content can be in many formats including text, images, video, audio, or presentations.
There are dozens of different types of Digital content like blog posts, articles, forums, ebooks and many more. But you must have a good idea about how to represent information in these formats.
What is the SEO Value of Content?
Google algorithms keep on evolving each year to deliver as they say "useful and relevant results in a fraction of a second". In 2020 content is one of the major factors which improves SEO ranking.
Useful and relevant results mean the piece of content which is available throughout the web. Ranking of the content depends on the relevancy to the search performed by the user on the search engine.
To achieve the SEO value of content, it must be beneficial to searchers.To write quality you must consider the following things:
High Quality Content
Your site must contain unique and high-quality content. Rather than targeting SEO ranking, It should be created to give a good user experience for the visitor, But It should not be heavily written with outsourced links to other websites.
Useful, Informative and Relevant Content
Just suppose, if you are launching a website or hotel, it must contain useful information like its check-in check-out hours, location or prices of services. You can write informative blogs regarding nearby tourist locations or the benefits of availing your hotel services. You have to fill up your website with only relevant information so that Google can identify your services and let you rank higher in search results.
Credibility
You must show credibility by testimonials or review section so that your site seems more trustworthy and valuable. When you get testimonials or reviews from real customers, it will help you to boost your reputation and credibility among your viewers.
Unique Content Than Others
Make sure your content is unique and carries a different perspective then other sites. Do proper research on competitive articles on the same topic and try to make the content better than them.
Improve Engagements with Viewers
Do not distract the viewer with lots of ads, it may reduce the interest of any viewer from browsing your website. Add images relevant to your product or services to make your website more impressive. Keep on sending updates to stay engaged with customers and offer them the comment section so that they can share their thoughts or feedback regarding your website.
When all these steps you follow to create content, automatically the potential of the SEO value of your content will get maximized.
Google is very much clear on duplicate and low-quality content, which will harm your whole website so it is better to stay away from any kind of duplicity. If you are nervous about any of your content regarding its duplicacy, you can disallow crawling of those pages by using a webmaster tool. Write only original and unique content which will definitely help you to improve SEO ranking.
We at WireTree hope you enjoyed this article and you'll go out there to create some unique and uniquely valuable content for your website.